Digipro finalist REGIOSTARS Awards 2023
Every year, the European Commission presents the "REGIOSTARS Awards" to EU-funded projects. This rewards innovative, inspiring and outstanding EU projects that have made a real difference to people's lives. With the aim of also inspiring other regions and projects across Europe. In the 2023 edition, the project Digipro has been selected as a finalist.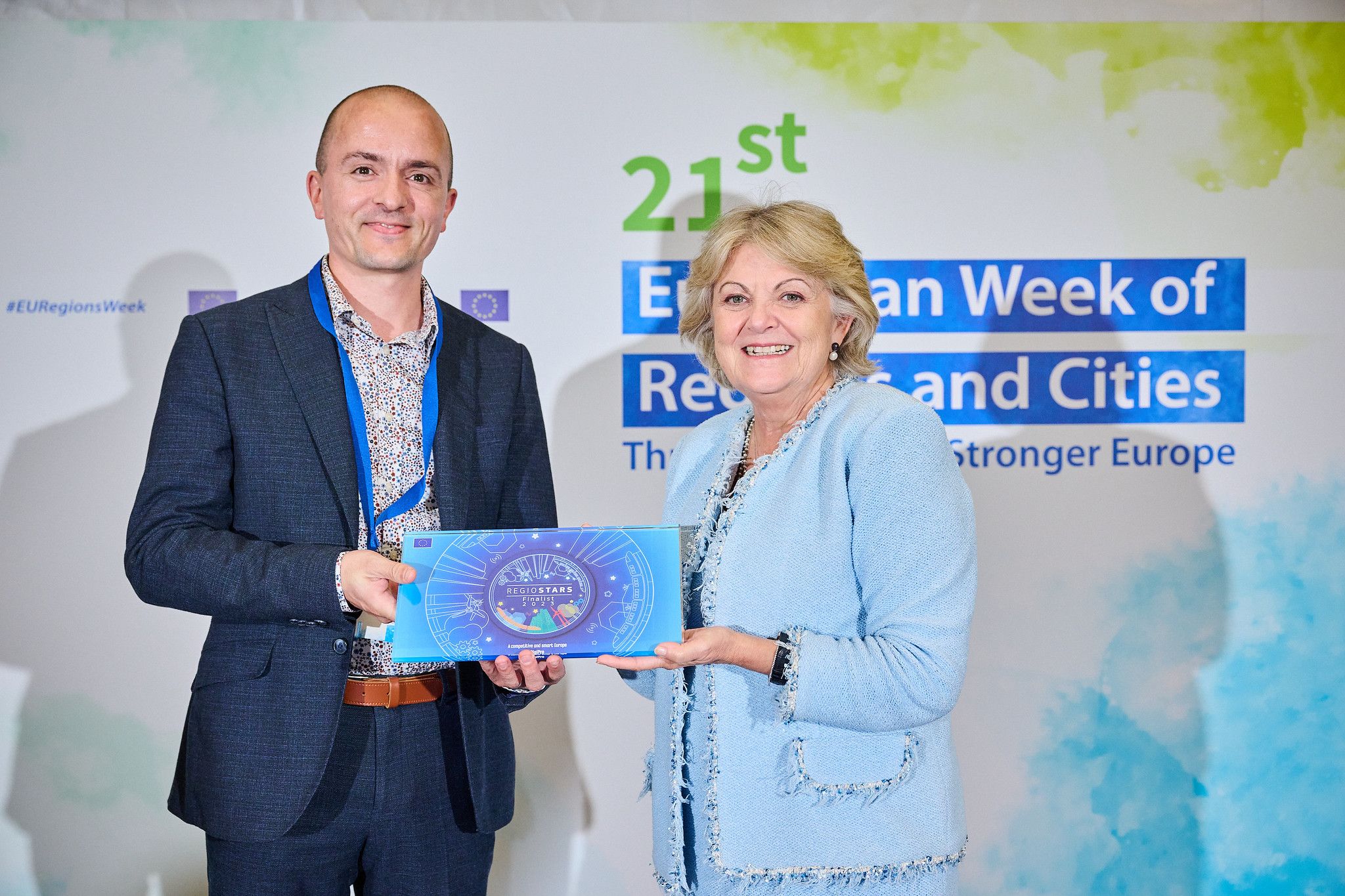 Photo: Erwin Altena (Digipro project leader) receives Regiostars certificate from Elisa Ferreira (European Commissioner for Cohesion and Reform).
From nomination to final
Out of 228 applications, Digipro was selected and was part of 30 finalists, including five in the 'A competitive and smart Europe' category. Quite an achievement for this borderless project. A panel of leading scientists reviewed and selected the submitted applications. The winning projects in the six categories and the winner of the public award were honoured at a ceremony in Ostrava, Czech Republic, on 16 November 2023.
"With these 30 finalists, we were in a select group of excellent European projects. In the end, in our category, the project 'Edificio Fundación Pasqual Maragall' from Spain won, which has done pioneering research on Alzheimer's. I would like to congratulate all 30 finalists, they really are all winners". Erwin Altena, Digipro project leader
Digitisation boost in border region
The INTERREG VA Netherlands-Germany project Digipro has been active in digital transition within the border region for more than five years. It improved the digital capabilities and resilience of SMEs with a groundbreaking approach. More than 500 entrepreneurs, mostly SMEs, have benefited from the programme. 140 projects were funded and 70 pioneering innovations emerged from the project with Oost NL as lead partner.
Entrepreneurs were full of praise for Digipro's simplicity, flexibility, bottom-up approach and grant opportunities, which fitted well with SME needs on both sides of the border. In addition to the many innovations, permanent partnerships have emerged that further strengthen cooperation and entrepreneurship in the border region.